The Studio Instructors
Mt Maunganui
Joanna
After doing pole fitness at The Studio since 2011 the opportunity came up to be the new owner. Having a background in business management and running businesses for the last 10 years as well as being involved in ballet, jazz, tap, ballroom dancing and fitness most of my life it was a great next step for me. I love how pole is great for your entire body fitness and strength. You meet the most amazing people who share a passion for a sport/fitness that is so unique and so fun!
When I'm not doing pole I love to wakeboard, get out onto the lake on our jet ski, go camping, hiking, bush walks, scuba diving and anything that involves the beach or outdoors.
I look forward to meeting you at one of The Studio's soon, come and try pole - you'll be hooked!
Bronwyn
I'm married with three beautiful girls aged 10,12 and 21. This year I became a grandmother also. I always thought that one day I would be a pole dancing granny.
I have been pole dancing since 2009. In 2012 I entered my first ever dance comp the NZAPP in the intermediate category, this year I entered the advanced category. I find it great to have something to train for and I always leave feeling inspired to train harder to keep progressing.
Having always loved dance and gymnastics to me pole is a mixture of both with your own special twist, it has done wonders for my confidence levels.
In June 2013, I started teaching beginner pole classes and I love it! Pole is my main form of fitness, also Cleo The Hurricanes DVD "Rockin Legs and Abs" is a killer workout I enjoy, along with plenty of stretching.
I love how pole is always challenging me and when I master a new move it's such a great feeling. It's great fitness for all and a great way to meet new people. I have made many new friends and met many fabulous ladies along the way.
Caroline
Originally from Sweden, I now calls myself a Swiwi after being here for 11 years. During my childhood and youth I was a part of various of sports such as gymnastics, dance, football, horse riding, cheerleading and circus.
I started youth circus school at the age of 9. After 6 years of training and performing with the youth circus school I started a secondary school which was Circus focused. This is where my passion for circus grew and I focused on aerial dance such as silks, trapeze (static and swing) and cloud swing. I also trained other aerial forms, hand balance, tight rope, juggling, clown, trampoline, unicycle and acrobatics. During these years I continued to work for the circus school and coach kids in the art of circus.
I settled in NZ in 2008 and got back in to teaching aerial hoops and silks a few years after. I love to be upside down and think it's great to be able to bring in the fun and playful side into my training; exercising should be fun, right?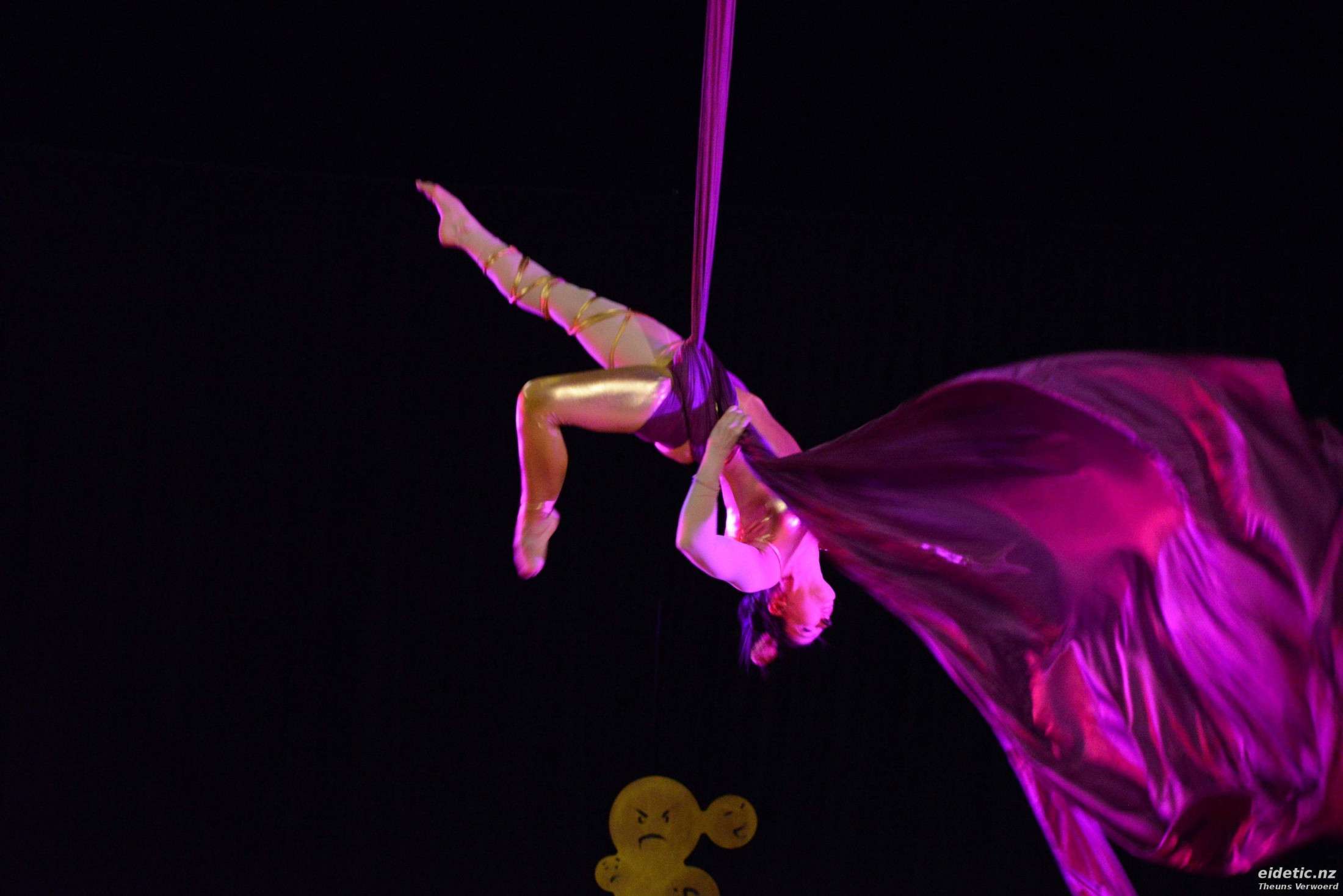 Clare
I have been doing aerial silks for the last 4 years in Christchurch at Circotica. I recently moved up to Tauranga and have made "The Studio" my new silks home.
For me aerial silks is an amazing way of building strength and flexibility without really feeling like I'm exercising. The challenge of learning a new move or drop teamed with the excitement of the next performance or fabulous costume drove me to train more and more and before I knew it I was the strongest I'd ever been.
As well as being a great form of exercise most people will agree that silks is a beautiful performance art. I've been lucky enough to perform in a variety of settings and it has been an awesome way to boost my confidence and make heaps of amazing friends.
I look forward to sharing my love of silks and circus arts with my students.
Donna
I am seven years into my pole journey, having attended my first lesson in 2010. Any doubts I had dissolved during that first class, it was so much fun, and I couldn't wait for the next class, even though I hadn't mastered any moves. I encourage anyone reading this to give pole fitness a try, to put aside your nerves, and give it a go. Don't let age hold you back either as I was already in my 40's when I began.
Pole is a fun way to work out, it gives you a total body workout, toning and strengthening all areas. There are always new moves to learn, so plenty of challenges. And as we all learn at different rates, we can progress at our own pace and with practice and perseverance you will achieve.
Any of the studio instructors would be happy to help and guide you on your own pole journey.
I would love to meet you at The Studio, Mount Maunganui, see you soon!
Hannah
Totally pumped to be part of this awesome team of people helping others join in all the fun that is pole dancing. I have a firm background in fitness with many years spent running, gyming, and horseriding. Any opportunity to be in nature especially if it involves some kind of exercise and i'm there.
I have been playing with pole on and off for around 5 years now but have really began to train hard and make huge progress in the last two years. I really enjoy helping women feel empowered through dance and seeing the impressive progress almost anyone can make in just a few classes.
In my spare time I am busy developing the off grid property I share with co-instructor/sister Jess, my son and the rest of my family. Gardening, music, herbalism, fitness, ocean swimming, reading and of course pole dancing are my passions.
I look forward to seeing you at class, bring a sense of humor and a smile and you'l be hooked in no time!
Kristy
I started Pole dancing in 2011 after my second child. What I found is Pole is an amazing form of fitness where you use your entire body and have so much fun. I love that while challenging myself with new moves or perfecting old ones, I was growing more confident in myself. After 2 years of dancing, I entered New Zealand Amateur Pole Performer competition and won the NZ 2013 performer category award.
I loved having a goal and something to push myself towards.
I started teaching beginners in 2014, and I love the sense of accomplishment and the confidence that I see in the students that I teach.

The Studio is the most supportive, friendly place to learn. Everyone is always there to help and working in with each other. I feel very lucky to both be a part of The Studio family but also one of the instructors to pass on my love of pole to others.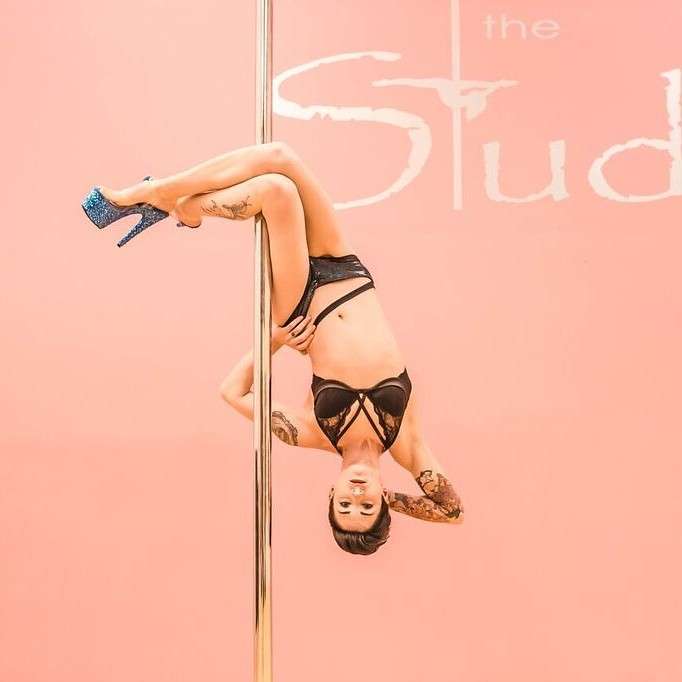 Libby
I started pole dancing in 2012 and I was hooked from the first class, even after waking up the next morning with pain in muscles I didn't know I had. I love the multitude of challenges that come with pole- the coordination required to learn new moves and transitions, putting fear aside to learn exciting flips and drops and figuring out how to pirouette and move with grace in 7 inch heels!
I started pole with no background experience in dance, gymnastics or flexibility and I am so proud of what my body can do now- I have confidence dancing on stage for an audience and now have a few competition ribbons under my belt to show for it.
Pole dancing has motivated me to learn about how we can move, stretch and strengthen our bodies in a safe way, and I look forward to sharing my passion with students of all levels at The Studio!"
Marika
Tauranga born, my family moved to America when I was a baby. I grew up in California, and moved back to New Zealand when I was fifteen.
I played soccer for ten years before i decided to run Cross Country and 1 year later decided to take up pole fitness. I had some previous experience with dancing so I was lucky that I leaned quite quickly.
I am planning to enter my first competition for pole this year, which really drove me to get better.
Along with teaching I am also studying to get my Psychology degree, with a minor in Human Resource Management. I love meeting new people, and teaching pole fitness allows me to be a social butterfly, and do some exercise at the same time.
Whangarei
Jess
Whangarei Studio Manager
With six years of pole dance experience and four years teaching behind me I can proudly say that pole has become a true passion for me. I have taught at both the Mount and Hamilton studios and am now currently Studio Mangaer and instructor at our Whangarei branch.
In addition to pole I also have four years Aerial Hoop experience, with two years teaching Hoop at the Mount Studio.
Outside of my dance career I enjoy spending time with my two homeschooled daughters, and developing our off-grid lifestlye property. I love that pole brings women together in a supportive environment where we can build confidence and learn to love our bodies for the amazing things they can do.
Candice
I'm really excited to see the aerial world open up for Whangarei, and that I can be part of it. My training has been mostly in Silks, but also Aerial Hoop, Aerial Chair, Aerial Straps and Aerial Net. I entered the aerial world just over 3 years ago, where I finally found an exercise form that gave me pure joy instead of felt like a chore. I never want to stop playing and making shapes in the air, but my muscles tell me otherwise.
I believe the aerial arts is a place where we can feel empowered and supported by one another. Everyone finds different moves or concepts hard, and we get to learn so much more about what our bodies can do, what they are uniquely good at. As we help each other figure out how to achieve our goals, we celebrate strength, ability and overcoming fears. It's not about a bikini body here, it's about… "Woah you just got yourself up! Freaking awesome job abs! Well done!" It's hard, but you get to fly! So come and play.
Outside of my love for aerials, I love exploring the Whangarei's walks and beaches and hanging out with my husband and puppy. My life mostly consists of drinking coffee and designing websites from home.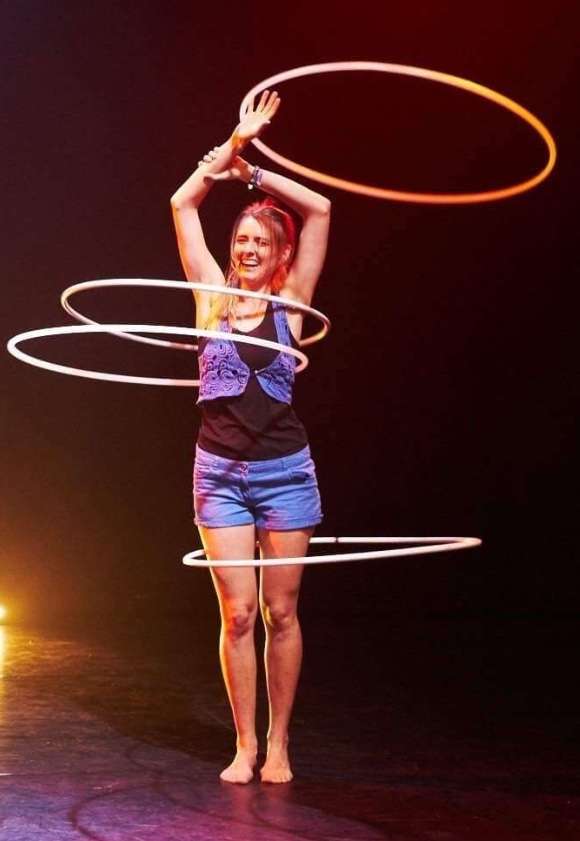 Lisa
Lisa has been involved in circus arts since 1999. She started in a youth circus, and continued with it over the last 17 years. Acrobatic, balance and juggling were the first circus skills she picked up. She started to give workshops for acrobatic and balance for children and youngsters in 2006, and that gave her the motivation to study social work in Berlin.
During her studies she picked up Hooping which quickly became her profession.
Lisa's hooping is a mix of manipulations, floorhooping, classic circus moves, a bit of dancing and little crazy tricks she collects along her travels and exchanges with other hoopers. In 2012 she visited New Zealand for the first time and got involved with Circus Kumarani and in 2014 she moved to Dargaville. She started training and teaching the arial arts about the same time and welcomed the challange of gravitiy and the feeling of succes in her life.