The Studio Instructors
Whangarei
Jess
Whangarei Studio Manager
With six years of pole dance experience and four years teaching behind me I can proudly say that pole has become a true passion for me. I have taught at both the Mount and Hamilton studios and am now currently Studio Mangaer and instructor at our Whangarei branch.
In addition to pole I also have four years Aerial Hoop experience, with two years teaching Hoop at the Mount Studio.
Outside of my dance career I enjoy spending time with my two homeschooled daughters, and developing our off-grid lifestlye property. I love that pole brings women together in a supportive environment where we can build confidence and learn to love our bodies for the amazing things they can do.
Candice
I'm really excited to see the aerial world open up for Whangarei, and that I can be part of it. My training has been mostly in Silks, but also Aerial Hoop, Aerial Chair, Aerial Straps and Aerial Net. I entered the aerial world just over 3 years ago, where I finally found an exercise form that gave me pure joy instead of felt like a chore. I never want to stop playing and making shapes in the air, but my muscles tell me otherwise.
I believe the aerial arts is a place where we can feel empowered and supported by one another. Everyone finds different moves or concepts hard, and we get to learn so much more about what our bodies can do, what they are uniquely good at. As we help each other figure out how to achieve our goals, we celebrate strength, ability and overcoming fears. It's not about a bikini body here, it's about… "Woah you just got yourself up! Freaking awesome job abs! Well done!" It's hard, but you get to fly! So come and play.
Outside of my love for aerials, I love exploring the Whangarei's walks and beaches and hanging out with my husband and puppy. My life mostly consists of drinking coffee and designing websites from home.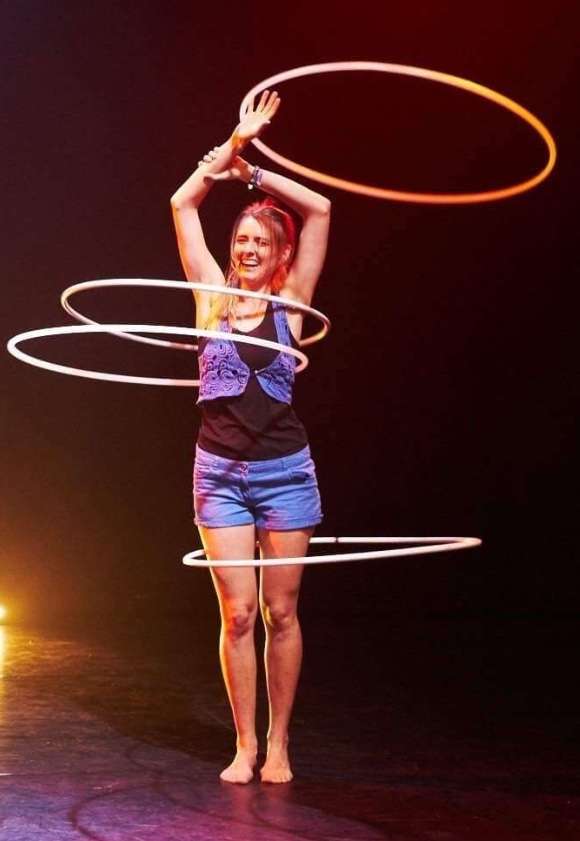 Lisa
Lisa has been involved in circus arts since 1999. She started in a youth circus, and continued with it over the last 17 years. Acrobatic, balance and juggling were the first circus skills she picked up. She started to give workshops for acrobatic and balance for children and youngsters in 2006, and that gave her the motivation to study social work in Berlin.
During her studies she picked up Hooping which quickly became her profession.
Lisa's hooping is a mix of manipulations, floorhooping, classic circus moves, a bit of dancing and little crazy tricks she collects along her travels and exchanges with other hoopers. In 2012 she visited New Zealand for the first time and got involved with Circus Kumarani and in 2014 she moved to Dargaville. She started training and teaching the arial arts about the same time and welcomed the challange of gravitiy and the feeling of succes in her life.