The Studio Instructors
Hamilton
Joanna - Director
Years in industry: 10
Years teaching: 8
After doing pole fitness at The Studio since 2011 the opportunity came up to be the new owner. Having a background in business management and running businesses for the last 10 years as well as being involved in ballet, jazz, tap, ballroom dancing and fitness most of my life it was a great next step for me. I love how pole is great for your entire body fitness and strength. You meet the most amazing people who share a passion for a sport/fitness that is so unique and so fun!
When I'm not doing pole I love to wakeboard, get out onto the lake on our jet ski, go camping, hiking, bush walks, scuba diving and anything that involves the beach or outdoors.
I look forward to meeting you at one of The Studio's soon, come and try pole - you'll be hooked!
Courtney
Hamilton Studio Manager
Years in industry: 6
Years teaching: 5
Dancing and gymnastics have been an important part of my life since I was 5 years of age. I have competed in the NZ nationals for gymnastics representing Taranaki. Yes! You guessed it I am a Naki girl! I came to Hamilton to study a bachelor of primary teaching and a bachelor of sport and leisure and have recently made Hamilton my home.

I have had experience in dance forms including Jazz, Hip Hop, Ceroc, Contemporary and more recently Pole Fitness. I have also been a dance teacher and choreographer in some of these dance genres.

I first started pole in early 2014 and have love it from day one! Pole fitness works every muscle in your body and you gain strength and flexibility along the way. I would recommend pole to anyone of all ages, shapes and sizes as it is an incredible way of getting fit while having huge amounts of fun at the same time.
Come on down to the Hamilton Studio where you will receive encouragement and support to make your pole experience an enjoyable one!
Becca
Years in industry: 5
Years teaching: 2 years
Originally from England, I've lived in New Zealand since 2004, mostly in Auckland. After moving to Hamilton for work in 2016 I realised I desperately needed some friends and a hobby to get me out of the house. A quick internet search led me to The Studio and I decided to try a pole class on a whim.
I had no dance background but as a lifelong drama queen and an adrenaline junkie I took to it pretty quickly. Four years on, pole is always the highlight of my day, whether I'm teaching or training. I'm passionate about performing and competing; I usually have at least two or three potential routines in the back of my mind. Whenever I'm on the pole I'm having so much fun I don't realise how much of a workout it is.

When I'm not at The Studio I work as an Engineer, bake a mean banana bread and make a lot of jokes with varying levels of success. I'm a huge sci-fi and fantasy geek and I'm always down for a chat about Star Trek.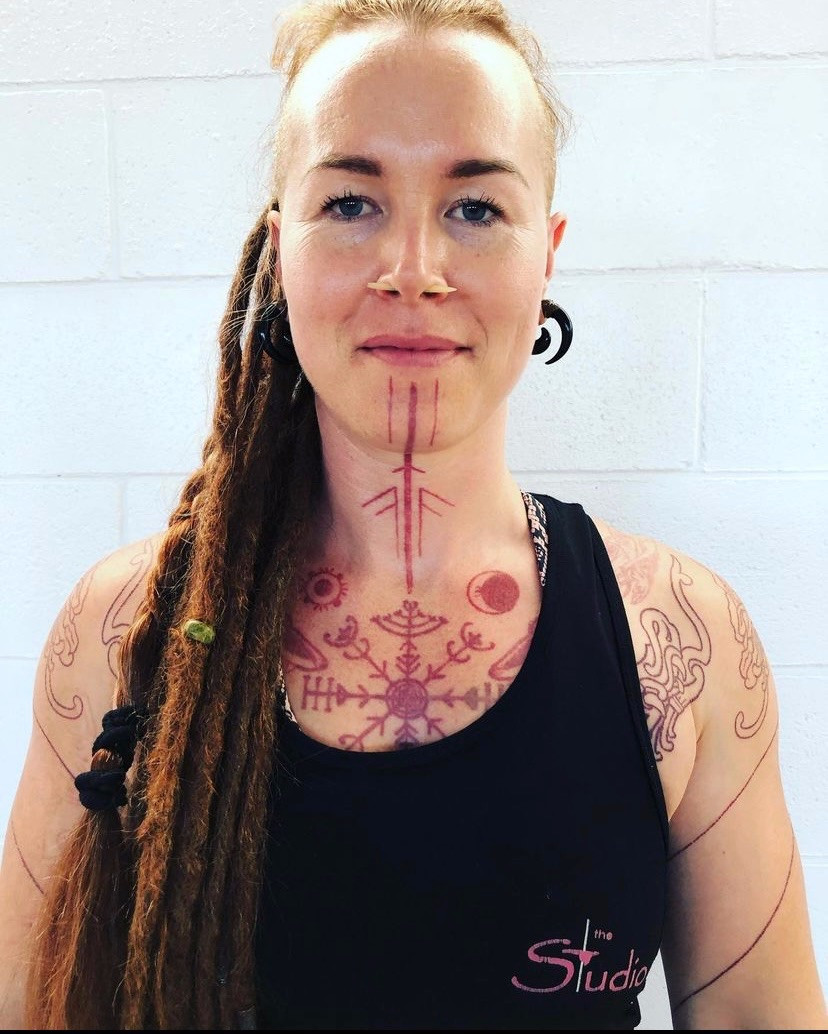 Browyn
Years in industry: 4
Years teaching: 6 months
I was introduced to pole and aerial hoop at a friend's hens do at The Studio and I fell in love straight away!
I signed up and have been obsessed ever since! Pole has made me feel even more confident and body positive, it's made me stronger and more flexible as well.
I have always had a passion for health, fitness and helping people feel more strong and confident in themselves so I'm very excited about being able to teach and help people along there aerial journey.
Casey
Years in industry: 3
Years teaching: 1 year
Casey is a professional dancer who started out learning Jazz in Hamilton before making the move to study full-time in Auckland gaining a Diploma in Dance and Theatre Arts majoring in Modern Dance, but with a focus on ballet, contemporary, tap and hiphop also.
After dancing at many events and gigs around NZ, she took her first overseas contract in India as a dancer in Bollywood Movies for 6 months. This then led on to many differing and wonderful contracts around the world including jobs dancing in Circuses in Panama, Costa Rica, New Zealand and Ireland. Other career highlights include working as a performer in a theme park in Dubai, and dancing in a luxury holiday resort in Egypt.
It was the circus experiences that led Casey to try out aerial silks and hoop which she fell in love with. She enjoys the progression and strength gained from these apparatuses and was then able to work as an aerialist performing silks in shows each night, and later on hoop.
On her return to New Zealand Casey has used the time to train a lot more specifically on hoop and enrolled in SpinCity Hoop Instructor qualification and now loves teaching this and other classes to students at The Studio.
She specifically enjoys being able to and introduce musicality and performance skills into each of her classes, and of course helping to create a positive and encouraging environment at all times.
Crystal
Years in industry: 4
Years teaching: 6 months
I love pole dancing for the combination of strength, flexibility and the freedom of expression that makes it so incredibly beautiful.
I can't wait to help and guide students towards achieving their pole goals, it's absolutely incredible what you and your body can achieve once you set your mind to it!
Chloe
Years in industry: 6
Years teaching: 5
I first started dancing at 5 years old doing Jazz, and have been dancing in some form or another ever since. My main form of dance training was years of Classical Ballet.
I began competing at a National level in Rock'n'Roll in 2006, and have been an NZ champion and also have won an Australian competition. I began Pole as I had some time between competitions and in order to keep dancing (otherwise I get dance withdrawals) I thought I would try something new! Ive been hooked ever since!

I love how I can incorporate all of my dance background into Pole, and how it uses muscles you didn't know you had. Pole dancing, to me is great because you overcome so many personal battles (like entering a pole dancing competition!) to master new moves while gaining so much strength and flexibility along the way.

When I'm not at Pole, I'm either training hard for Rock'n'Roll competitions or at University studying for my Masters in Applied Psychology.
Erika
Years in industry: 4

Years teaching: 1 years
Since the age of 3, I have been a dancer and I've loved every second of it. Growing up I danced all kinds of styles from ballet, to hip hop, acrobatics and more. I also found time between dance classes to be a competitive gymnast. Along the way, I started coaching and teaching dance and gymnastics, and I found I loved that too. Did make for a busy school experience.
When I finished school I moved from the sunny coromandel to Hamilton for university. I started coaching gymnastics and trampolining all the while dreaming of getting back to dance somehow. It was at this point that a few of my coaching friends suggested I try out pole dancing, saying they think I would really enjoy it with my dance background. OH MY WORD they were RIGHT! Took my first class at the studio, fell in love instantly and haven't looked back since.
I dove headfirst into the pole community because I loved the way it allowed my passion for dance to continue and grow in a new environment as well as incorporate the strength and acrobatics from my gymnastics. I can't wait to share my passion for pole with anyone and everyone looking for something new and fun to try.
Jo-Elle
Years in industry: 2
Years teaching: 6 months
I decided to go to the gym in June 2018. But as it turns out, the gym is reeeeally boring. Ain't nobody got time for that.
So, I clicked on a Studio Facebook ad and signed up for pole instead! As it turns out, aerial sports are addictive, So two years later, I can be found doing tricks on a pole, hanging around on the straps or somewhere at the top of the silks!
Kirsty
Years in industry: 3
Years teaching: 2
I first started ballet when I was three years old. As I got older, I learned more new dance styles including jazz, tap, and lyrical/contemporary. Once I completed all my dance exams, I started teaching. While I was teaching (and studying) I dabbled into a few other styles such as ballroom/latin and rock'n'roll, just to keep me busy and continue some kind of dance training (what can I say - I'm addicted to dance!). I taught for 6 years before a new job as a molecular biologist took me down to Wellington. That is where I first fell in love with pole.
From my first class I was hooked. I have being pole dancing for just over a year now and I'm loving it! It keeps me active, I'm building my strength every day, and I love how pole dancing is constantly challenging me and helping me become a more confident person.
If you want to find a new and fun way to get fit, make amazing friends, and build your strength, flexibility and confidence, then come on down to The Studio and join our awesome crew.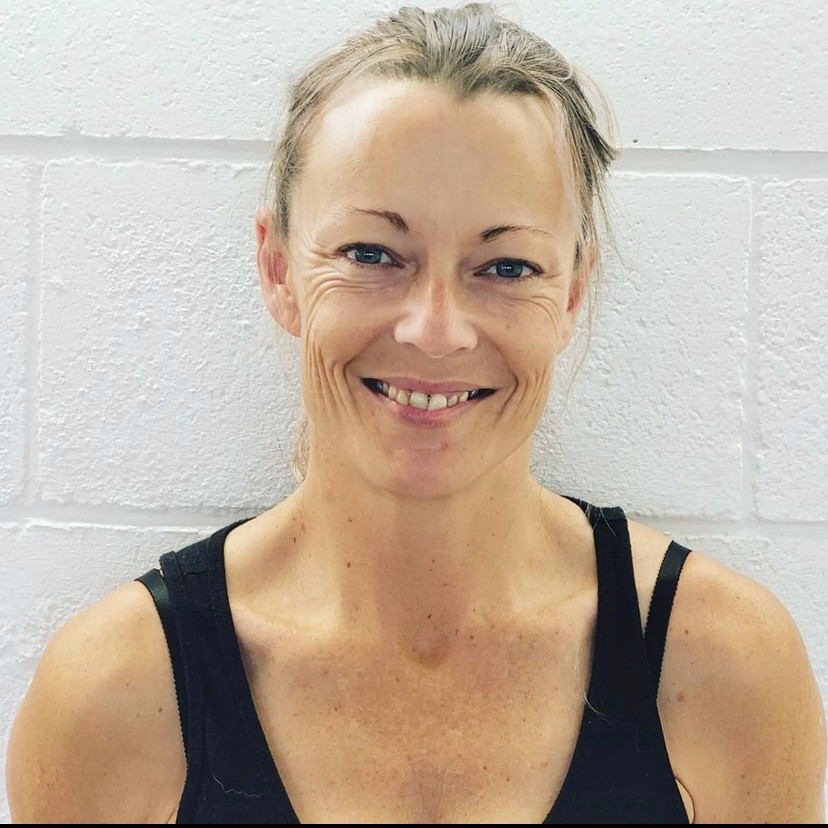 Linda
Years in industry: 3
Years teaching: 6 Months
I started pole fitness as a way to keep myself both mentally and physically strong. The confidence that it gives you to not only believe in yourself but to get that head held high is incredible.
I don't have a dance or a gymnastics background but have had plenty of injuries so my focus as an instructor is build good core strength foundations with my students to enable them to reach their goals safely.
When im not in the studio I am a busy mum of 5 and am often found on the sideline of a sport field.
Marika
Years in industry: 5
Years teaching: 4
Tauranga born, my family moved to America when I was a baby. I grew up in California, and moved back to New Zealand when I was fifteen.
I played soccer for ten years before i decided to run Cross Country and 1 year later decided to take up pole fitness. I had some previous experience with dancing so I was lucky that I leaned quite quickly.
I am planning to enter my first competition for pole this year, which really drove me to get better.
Along with teaching I am also studying to get my Psychology degree, with a minor in Human Resource Management. I love meeting new people, and teaching pole fitness allows me to be a social butterfly, and do some exercise at the same time.
Nikki
Years in industry: 6
Years teaching: 5
I've always loved to dance and keep fit and what better way than to combine the two and do pole fitness. Im addicted!
At the moment I take the beginner classes where I love to watch the new students amaze themselves with what they can do. My classes are fun and energetic and a great way to meet new friends. We have heaps of laughs together, sometimes at me, and are there to encourage each other. No matter if you are just starting out or have been doing pole fitness for a wee while and want to brush up on your skills, come and hang with me. I'm always more than happy to lend a hand and/or give you some tips.So come and give it a go. I know you will love it too.
In my spare time, when I'm not doing pole, I love to shop … for shoes!
There are two things in life you can never have enough of … pole fitness and shoes!
Rachael
Years in industry: 6
Years teaching: 1
I don't come from a dance background but have always craved being able to dance in some way shape or form. I also have never had any upper body strength.
After signing up to my first pole fitness class, tadaaaa- I hit the jackpot! Five years later and I am the strongest and fittest I have ever been.
I love how pole fitness teaches you to not only be strong and confident in your body but also your mind too. My body has been able to things I never thought it would be able to do and I am still learning new things every week, the possibilities are endless!
I love how pole fitness builds strength, stamina, flexibility, dance and flow skills and this is what I love incorporating in my classes.
I am so excited to be a part of this journey for others and to see people grow from strength to strength in all areas each session.
Yazmin
My family is very musical and Ballet was my life for 15 years along with some tap dance, gymnastics, martial arts and theatre.

Over 10 years, I learned all kinds of circus arts and fire dance in. Of course I had to get a grown up job so I became a computing teacher which lead to a rewarding career in education and health /disability services. After becoming chronically ill it was time to go back to basics.... YOGA.

I'd always been fascinated with Eastern philosophy and the miraculous potential our bodies have, so off I went to become a yoga therapist. It was there that I made friends with 2 amazing circus teachers, one of whom had a hoop... and that was it. No more desk job!

6 years ago I moved to hamilton to teach yoga and immediately found The Studio. It took a long time before I finally made it to my first class but it was soooooo worth it. I couldn't have picked a better tribe to spin with!
When I'm not trying to do stunts I hang out with my gorgeous family and like to crotchet.